Industrial profits see return to growth in third quarter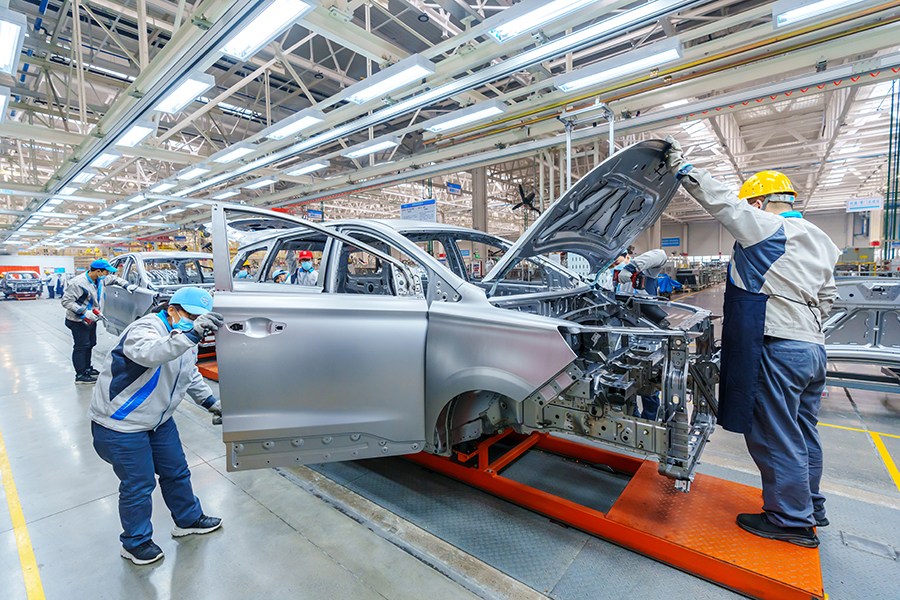 Employees work on the production line of a carmaker in Yuncheng, Shanxi province. [Photo by YAN XIN FOR CHINA DAILY]
China's industrial profits rebounded to 7.7 percent year-on-year growth in the third quarter, ending a decline of five consecutive quarters, the National Bureau of Statistics said on Friday.
Industry experts said that the growth in the profits of major industrial firms added further signs of economic recovery amid a package of strengthening supportive policies, and this momentum is very likely to continue in the fourth quarter.
In September alone, the profits of major industrial firms, which refer to industrial enterprises with an annual revenue of at least 20 million yuan ($2.7 million) each, grew 11.9 percent year-on-year. This followed a 17.2 percent jump in August.
In the first nine months, profits slid 9 percent from a year earlier, but the drop narrowed by 7.8 percentage points and 12.4 percentage points, respectively, from that of the first half and the first quarter.
Yu Weining, a statistician at the NBS, said: "Industrial profits showed an apparent recovery in the first three quarters thanks to a combination of macro policies. Meanwhile, industrial production has also grown steadily while demand continues to improve."
Among the country's 41 major industrial sectors, 25 saw accelerated profit growth or narrowed the decline in the first three quarters. In particular, the profit of the equipment manufacturing industry, which accounted for 31.5 percent of total industrial profits, grew 0.6 percent year-on-year from January to September, registering an increase for the first time this year.
On Friday, the Shanghai Composite Index rose nearly 1 percent, closing at 3017.78. Stocks in the automobile sector jumped as a whole with more than 10 firms, including FAW Jiefang and JAC Motors, surging by their daily limits.
Hong Qunlian, a researcher of the Academy of Macroeconomic Research, which is affiliated with the National Development and Reform Commission, said, "As China continues to promote new industrialization, sectors such as electrical machinery, automobiles and aerospace, are becoming major growth drivers."
Notably, the latest NBS data showed that the raw material manufacturing industry saw profits decline narrow by 18.8 percentage points in the first three quarters compared with the first half. Citing the figures, Zhou Maohua, a senior analyst at China Everbright Bank, said there is a "continued improvement in supply and demand" in the domestic market.
"As domestic market demand continues to recover and the price of industrial products bottoms out, industrial product production is expected to grow steadily. Together with the effects of a package of supportive macro policies, the country's industrial profits are likely to continue to recover in the coming quarters," Zhou added.
Wen Bin, chief economist at China Minsheng Bank, said that the profit decline of major industrial companies is expected to narrow continuously.
"The year-on-year decline in the producer price index continues to narrow, and such price factors will support industrial profits. Recent months saw a recovery in exports, and such improvement in external demand will also effectively boost the production willingness of industrial enterprises," Wen said.
As industrial profits continue to recover, Guan Bing, head of industrial economics of CCID Research Institute, a government think tank, said more efforts are still needed to maintain industrial momentum over the long term, including boosting exports and driving the growth of small and medium-sized enterprises.